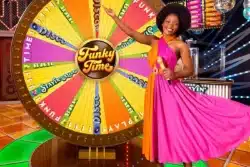 Funky Time
Funky Time Facts
Provider:

Evolution Gaming

Released:

2023

Our Rating:

4.8/5

RTP:

95.99%
Volatility:

High

Min/Max Bet:

$0.10 / $25

Max Win:

10000x

Paylines:

64
Funky Time is an entertaining live dealer game show by one of the most prominent software providers in the world. This review evaluates its main elements, such as bonus features and gameplay.
Funky Time Slot Overview
Funky Time is one of the newest additions to the world of live dealer casino games. This is a spin-the-wheel game that has 64 separate fields that it could land on. Before the dealer spins the DigiWheel, the players need to wager on whichever segment they think the wheel will stop on, and if they guess correctly, they win.
This wheel is randomly assigned multipliers before each spin so that if the flapper lands on one of those slots, the player has even better winning opportunities.
Play Funky Time for Real Money
Funky Time Gameplay
There are 4 live dealers that host this game, out of which one is the main dealer that spins the wheel, while the other three are responsible for the bonus feature rooms. The minimum bet in this game is fixed at $0.10, while the maximum is set at $25. The maximum amount a player can win goes up to 10,000x.

Winning Symbols
The objective of this game is to wager on a particular symbol, regardless of whether it is a specific letter, number, segment, or bonus feature. If the flapper lands on that symbol, the player wins.
The letters P L A Y
The letters F U N K
The letters T I M E
BAR
Disco
Stayin' Alive
VIP Disco
The number 1
Features Available
Bar
Disco
VIP Disco
Stayin Alive
Stayin' Alive
If the player wagers on this symbol and the flapper lands there, the player gets to access the Stayin' Alive ball drawing machine. This machine contains 90 coloured balls and a 20-level multiplier ladder that can reach up to 10,000x the wager. The player just needs to choose between the green, pink, and orange teams.
Each 1-step ball moves the player up the multiplier scale for 1 step, each 2-step ball moves the player 2 steps, while a black ball means the player loses a life. After 4 black balls, the bonus game ends.
Bar
To access this bonus feature, the players need to place their wagers on the Bar symbol and hope the flapper lands on it. Once it does, the players are transported to a funky bar with a robot bartender and 3 glasses accumulating multipliers. All you must do is choose the glass you think will contain the most multipliers.
Funky Time Conclusion
Funky Time is a brand-new live dealer game by software provider Evolution Gaming. It provides players with numerous winning opportunities, including 4 bonus features. If you're a fan of live dealer shows, this might be the new game you're looking for.