Ugga Bugga
Ugga Bugga Facts
Provider:

Playtech

Released:

2013

Our Rating:

4.7/5

RTP:

99.07%
Volatility:

Low

Min/Max Bet:

$0.10 / $250

Max Win:

1000x

Paylines:

10
Ugga Bugga Slot Review
Ugga Bugga is a famous slot game developed by Playtech that has been entertaining players since its launch in 2013. With its unique structure and high RTP of 99.07%, Ugga Bugga has become a stable casino game in the library of many Canadian online casinos.
The game features a 3×3 grid with 10 paylines and allows players to hold certain symbols in place for the next spin, increasing their chances of hitting a winning combination. The symbols in the game are inspired by a tribal theme and include masks, drums, and tribal huts. The game's audio and visual effects also add to the immersive experience, transporting players to a tribal world filled with adventure and excitement.
If you're looking for a fun and engaging online slot game, Ugga Bugga is definitely worth checking out. With its high RTP and unique gameplay mechanics, it offers a refreshing change from traditional slot games and promises hours of entertainment.
So why not give it a spin and see if you can strike it lucky? Read more about Ugga Bugga in this unbiased slot review where we try Ugga Bugga for real money.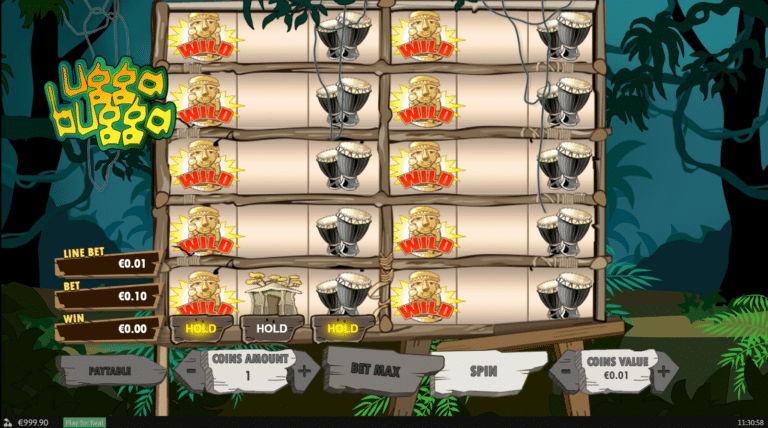 Ugga Bugga Slot Machine Overview
Ugga Bugga features a tiki-themed design and has an impressive Return to Player (RTP) of 99.07%, making it one of the most lucrative slot games available online.
The game has a low volatility, which means that it pays out with higher frequency than other slot games. It has 10 fixed paylines and comes in a wooden frame grid with sections separated into 3×1 rows – note each section represents one payline.
One of the unique features of Ugga Bugga is the expanding holds feature. This feature allows players to hold wild symbols, which can then expand to all of the other pay lines, increasing the chances of winning big payouts.
While Ugga Bugga does not have many bonus features, it makes up for it in its impressive RTP and straightforward gameplay. The game is suitable for both novice and experienced players, and its tiki-themed design adds a fun and exciting element to the gaming experience.
Where to play Ugga Bugga – Ugga Bugga Casinos
Playtech is a provider we can find on many top online casino sites in Canada, and we recommend you to check the current casino bonus offers which will allow you to get more of your playtime on Ugga Bugga. For the best Ugga Bugga casinos, check out the list below.
How to Play Ugga Bugga Slot
If you're new to the Ugga Bugga slot, don't worry! This game is easy to learn and play. In this section, we'll walk you through the basics of Ugga Bugga slot and help you get started.
Starting the Game
To start playing Ugga Bugga, you need to set your bet. You can adjust the number of coins you play and the coin value using the "+" and "-" buttons. Once you've set your bet, click on the "Spin" button to start the game.
Understanding the Rules
The Ugga Bugga slot is a unique game with a different layout than most other slots. The game has 10 paylines, and each payline consists of three sections. To win, you need to line up three of the same symbol in one of those three sections. The game has a high RTP of 99.07%, which means you have a good chance of winning.
Winning Combinations
Ugga Bugga has a variety of symbols, each with its own payout. The highest paying symbol is the tribal mask, which pays out 1,000 coins if you line up three of them. The game also has a wild symbol, which can substitute for any other symbol to create a winning combination.
To maximize your chances of winning, we recommend playing with all 10 paylines. This will give you more opportunities to hit a winning combination.
Special Features of Ugga Bugga Slot
Ugga Bugga is known for its unique gameplay mechanics and impressive RTP of 99.07%. The high RTP is not the only thing that makes this slot stand out, here will discuss the special features of Ugga Bugga slot, compared to other online slot games.
Bonus Round
Ugga Bugga slot does not have a traditional bonus round, but it offers a unique hold feature that allows players to hold certain symbols in place while spinning the remaining reels. This can increase the chances of hitting a winning combination and can lead to big payouts.
Wild Symbols
The tiki idol symbol in the Ugga Bugga slot is the wild symbol. It can substitute for any other symbol on the reels, except for the scatter symbol. The wild symbol can also expand to cover the entire reel, increasing the chances of hitting a winning combination.
Strategies and Tips for Ugga Bugga
There are a few strategies and tips that can help you maximize your winnings of Ugga Bugga. Here are some of our top recommendations:
Take Advantage of the High RTP
Ugga Bugga slot has an incredibly high RTP of 99.07%, which means that you have a better chance of winning than with most other slots. This is the biggest advantage to the Ugga Bugga slot machine, and why it's a strong contender compared to other slot games.
Understand the Paylines
Ugga Bugga has 10 paylines, and each payline is made up of three sections. To win, you need to line up three of the same symbol in one of these sections.
Look for the Wild Symbols
The wild symbols in the Ugga Bugga slot machine can help you to create winning combinations. If you're lucky enough to land three wild symbols in a row, you could see your account balance skyrocket. Keep an eye out for these symbols and try to incorporate them into your gameplay strategy.
Why You Should Choose Ugga Bugga
Based on our research and experience playing Ugga Bugga, we have some final thoughts on this slot game.
We believe that the high RTP of 99.07% is a major selling point for Ugga Bugga. This means that, on average, players can expect to receive a higher return on their investment compared to other slot games. The theoretical percentage and individual results may vary, which you should be aware of.
Another positive aspect of Ugga Bugga is its simplicity. While some players may prefer more complex slot games with bonus features and jackpots, others may appreciate the straightforward gameplay and low volatility of Ugga Bugga.
On the other hand, some players may find Ugga Bugga to be too basic and lacking in excitement. The absence of bonus games and jackpots means that there are no opportunities for big payouts or special features. The graphics and sound effects may also not be as engaging as other slot games.
In conclusion we like Ugga Bugga for its simple game which everyone can understand, the high RTP speaks for itself, but we lack a clear bonus game from this slot machine. If you're new to gambling we believe that starting with Ugga Bugga is a good choice.