Using a casino bonus in the best way
Picking a casino bonus can be a hard task, as can understanding what you, as a player, get out of it. You'll have to look through the wagering requirements to see how much you need to play before selecting the right game for it to work, and then it comes down to what game works the best and if the casino bonus really is as good as advertised. As you can already understand, everything has to align, from the selection of the game to how much you can wager on each bet and how many bets you need to make in order to cash in on your casino bonus.
Signs of a good casino bonus
In this article, we will go through the steps we take to ensure that an offer is as good as we think it is and what pitfalls and tricks there are in order to find the best casino bonuses with ease.
First off, we need to go through what a good casino bonus looks like. We start by looking at all the possible offers we can get as new customers through the list of online casinos in Canada here at Casivo.

How much matched bonus we can get
If you're looking to deposit a bigger amount to play for, a bonus with a high matched bonus offer is the right choice. Meaning that the casino allows up to several thousand in a matched bonus if you have a higher budget, which gives you a higher amount to play for.
Example: Lucky Days Casino offers 100% up to $1500, this means that you can get $1500 in bonus money to play for, before essentially playing for the rest of your $1500 deposit. This enables you to play for a total amount of $3000.
Included free spins
As an extra, casinos will give away free casino spins on a selection of slots on top of the matched bonus. This is a way for game providers to market their new games, but also for the casino to give players something extra for a deposit. We highly recommend using an offer with provided free spins as it gives you an extra chance to win real money, somewhat for free.
Wagering requirement
The wagering requirement tells you how much you need to play before making a withdrawal of the bonus cash. Typically, a good range for a wagering requirement falls within 30–40 times the amount; anything above this range can be seen as very hard to reach.
Example: If an offer has x30 wagering requirement, and your bonus money consists of $100 in extra money, you need to play through the deposit amount and the bonus money, which is 200×30=6000, before you can make a withdrawal of the winnings.
The best way to make use of a bonus
Now that you know what a good offer looks like, it's time to dive into how we can make the most out of our bonus as well as the more efficient ways of meeting the wagering requirement to be able to make a withdrawal of the bonus money.
Typically, when our experts make use of a bonus, they make sure to check what games are available to meet the wagering requirement of 100%. A lot of games are not actively helping the wagering requirement, meaning that you need to pick certain games of the casino's choice for the best and fastest effect.
To know what games are eligible, we recommend checking through the terms and conditions page of the bonus you're about to claim. There you can find all the information about the bonus, what's needed, and what games have a 100% contribution towards the wagering requirement.
Example of how terms and conditions can look: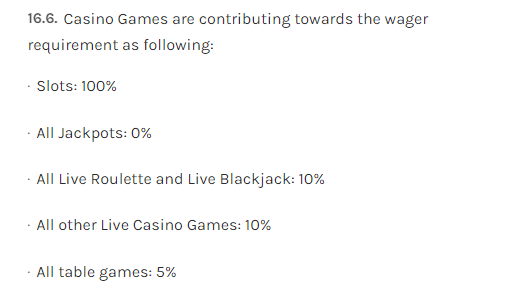 Here we notice a few things, mainly that slots contribute 100% to the wagering requirements, but also other games. Usually, the norm for all bonuses is that online slots contribute the most, while live games such as blackjack and roulette don't contribute as much. This is because it's easier for players to have the upper hand in games that are not built with a random number generator.
Make sure to read the terms and conditions
In the end, a good offer comes down to the terms and conditions attached to it. Some casinos boast of big matched bonus numbers, but they might only be available for certain games while having a high wagering requirement. All these criteria go into picking a good bonus, and with this article, we hope you'll spot the good versus the really bad ones.