Latest trends on new online casinos in Canada 2023
As new sites emerge, it's vital for online casinos to stay up to date with the latest trends to enhance the gaming experience for players. The market i thriving, and operators are incorporating innovative features to stay ahead of the curve. In this article, we will explore the latest trends in new online casinos and how they are shaping the future of online gambling.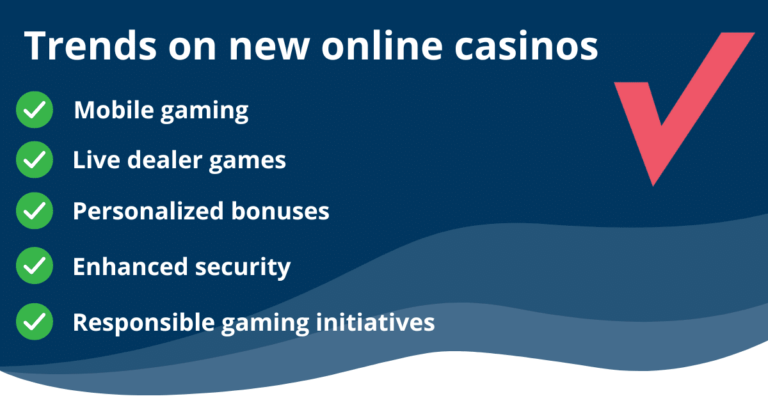 Mobile gaming: Accesing the game anytime, anywhere
The online casino industry has been transformed by mobile gaming. With smartphones and tablets becoming a standard in every home, the newest casino sites are developing their products as mobile-friendly websites. There are still dedicated casino apps for several operators, but today it's more common that players use the browser to play rather than downloading an app. With this, players are able to enjoy their favourite casino games on the go, without compromising on quality or functionality. If you're interested in casinos that are tailored for mobile, check out the recommended mobile casinos in our lists.
Live dealer games: An immersive casino experience
The popularity of live dealer games is soaring. With live games, players can interact with real dealers through high-quality video streaming, bringing the excitement of a land-based casino to the comfort of their homes. The immersive experience with real-time game play and social interaction makes live dealer casinos a sought-after trend for both new casinos and established operators.
Some of the most popular live casino providers in Canada:
Evolution Gaming
Pragmatic Play
NetEnt
Personalized bonuses and promotions: Tailored rewards for every player
To enhance player satisfaction, casinos are moving towards personalized bonus offers and promotions. Casinos are analyzing player preferences, habits, and behaviours to provide tailored rewards that cater to each player's specific needs. This customization adds an extra layer of excitement and value to the overall casino experience, other than offering bonuses as a welcome package only.
This also differs from a VIP experience, as personalized bonuses cater to both first-time players and high rollers. Reaching VIP status usually means the player has to spend a certain amount of money, which is not the case with a personalized bonus. The system of the online casino learns what players like to play, from games to what bonuses they like to use. They can therefore tailor the promotions other than the general promotions for all players.
Enhanced security measures: Protecting player's peace of mind
New online casinos are prioritizing the implementation of robust security measures. Encryption, secure payment methods, and strict data protection protocols ensure the safeguarding of players personal and financial information. Today, it's common that the payment methods used at online casinos are handled online. These methods are detached from the casino itself, which means players don't have to share any type of sensitive bank information when depositing or withdrawing money.
We believe this will be the norm going forward for casinos in Canada, whereas online banking is already overtaking older methods as a way of handling funds between the online casino and the player. These newer banking methods also enable faster withdrawals at online casinos, which is a feature that casinos must have in today's fast paced market.
Responsible gambling initiatives: Promoting safe and healthy gaming habits
Today, online casinos are committed to promoting responsible gambling practices. Just a few years ago, there were few to no ways of getting help, setting limits, or getting education around safe gambling habits. New online casinos often provide self-exclusion options and deposit limits, and players have access to educational resources about gambling addiction. The online casinos of today take on a bigger responsibility than before to ensure a safe and enjoyable experience for all.
We recommend checking out licensed online casinos only for this matter alone, as casinos with no evident gambling license tend to have shady practices that we strongly advise you to check out before you play.

Our experts on new casinos going forward
As the industry continues to evolve, new trends will shape the landscape of online gambling in Canada. We believe that payment methods going forward will handle deposits and withdrawals even faster while also catering to fast login sequences without having to remember a username or password. Another trend that is going upward is live entertainment in general, such as game shows and new forms of casino games in a live environment.
Virtual reality and augmented reality are technologies that was thought to be the next big thing for the industry, where players could immerse themselves even more. This has not been the case as of yet and we are still to see new casinos implementing this at a broader scale.
As we're committed to staying up to date with the latest trends for online casinos, we recommend you come back to this article once in a while to check out what the latest trends are.